Yun - MP3 player - Ultrasonic Diffuser for Essential Oils
{{item.currency}} {{pricing}}
Qty
{{item.currency}} {{pricing}} - Out of Stock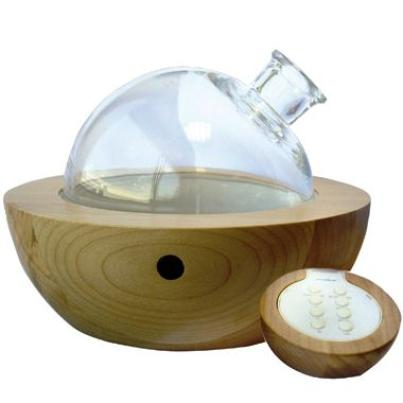 Yun - Ultrasonic Aroma Diffuser - MP3 player
Discover the power of the ancient Five-Sense Therapy, combining fusing music, light and aromatherapy.

The Concept
Build around the five-sense therapy, used in ancient Oriental Chinese medicine, the YUN diffuser creates an exceptional and olfactive experience where purity, silence and balance prevail to achieve an emotional balance and relax your mind, as a perfect symbol of harmony and oneness of life and nature.
The accent lies on the cold diffusing of Essential Oils for their extremely efficient and renowned beneficial properties for health.
Five sounds: the elements of the five sounds reduce stress, anxiety and hyperactivity and create joy of body and heart improving immunity and lowering blood pressure, general health. Can be easily connected to your MP3 player.

Five colors: the use of five colors will delicately adjust the physical, spiritual and emotional side of our being and achieve a perfect balance.

Five smells: the use of selected certified essential oils extracted from plants and inhaled when diffused, actively help to stimulate the immune system and relax body and mind.
Made of natural maple wood and hand-made glass.

Function Overview
Aromatic diffuser
The YUN diffuser takes advantage of supersonic technology to homogenize and diffuse water and essential oils without heating, emitting billions of aromatic micro-particles carried by a water mist that improves the beneficial effects of the Essential Oils for your health.
These micro-particles of Essential Oils can be absorbed by the respiratory tract and exert their positive influence on your health, relaxation and welfare and improve the purification and moisturizing of your skin and exert the magical effect of the aroma treatment to the maximum extent.
Three-layered Eco-Purifier Functions
The build-in ecological purification technology emits negative oxygen ions, decomposes and absorbs harmful gases in the air for the purposes of sterilization, disinfection and deodorization.

Natural longstanding Negative Oxygen Ions
It adopts rare natural materials to continuous emit negative ions without either need for electricity or generation of ozone, and to last for as long as fifty years to purify the air, improve your physiological function including your heart, lungs, brain and nervous system, enhance your immunity, relax your mind and remove your spiritual pressure.
Nanometer Silver lons
It adopts the most advanced nanometer silver ion sterilization technology to continuously emit silver ions to realize functions of sterilization, mould resistance, corrosion protection, deodorization and smell removing.
Cold Accelerant:
Cold accelerant, the killer of formaldehyde, can effectively decompose harmful gases such as formaldehyde and ethyl mercaptan. Through high-efficiency antibiotic function, it also has strong sterilization function as of Escherichia coli and staphylococcus aureus.

Humidifier
The water used as a base is emitted together with the Essential Oil under the form of a white mist, moisturizing the air.

Instructions for use
Aromatherapy: between 5 and 20 drops of essential oils into the water tank for a diffusion session of 15 minutes to 4 hours.

Product Specification
Power Supply: 24V=, 650mA
Power: 15W
Mist Effect: 70±10ml/H
Mist Particle Diameter: 5 µm
Applicable Space: 40m2
Music: 12 minutes
Applicable Water: Tap water or mineral water (room temperature)